This article walks you through how to send and start interviews for applicants.
Interview guides are used for a number of different screening steps. This includes Phone Screens, Manager Interviews, Social Media Audits, and any other step you might use to evaluate a candidate before being hired. The instructions below will help you access interview guides both to start and send links to those participating in the interviews.
1. Go to journeyfront.com
2. Select the "HIRE" tab in the top left corner of your screen.

3. Select the Smartreq that the applicant applied too.

4. Click the "Interview Link" to the right of the applicant's name.

5. In the Interview link pop up select the interview guide you wish to access. You can do this by either starting the interview in this tab by simply clicking "Start" next to the interview you desire or click "Copy Link" which will save a link to your clipboard that can be sent to other hiring team members so they can score the candidate.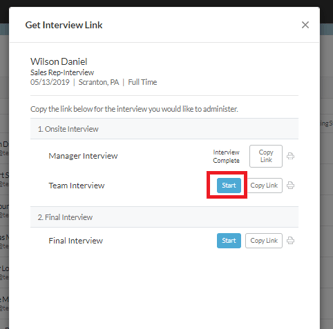 6. You then will be taking to the interview step for the desired applicant. Simply follow the instructions on the interview guide and click "Submit - I'm done" - this will lock and save the interview.
7. You can also print the interview scorecard out by clicking the "print" button in the top of the interview guide.